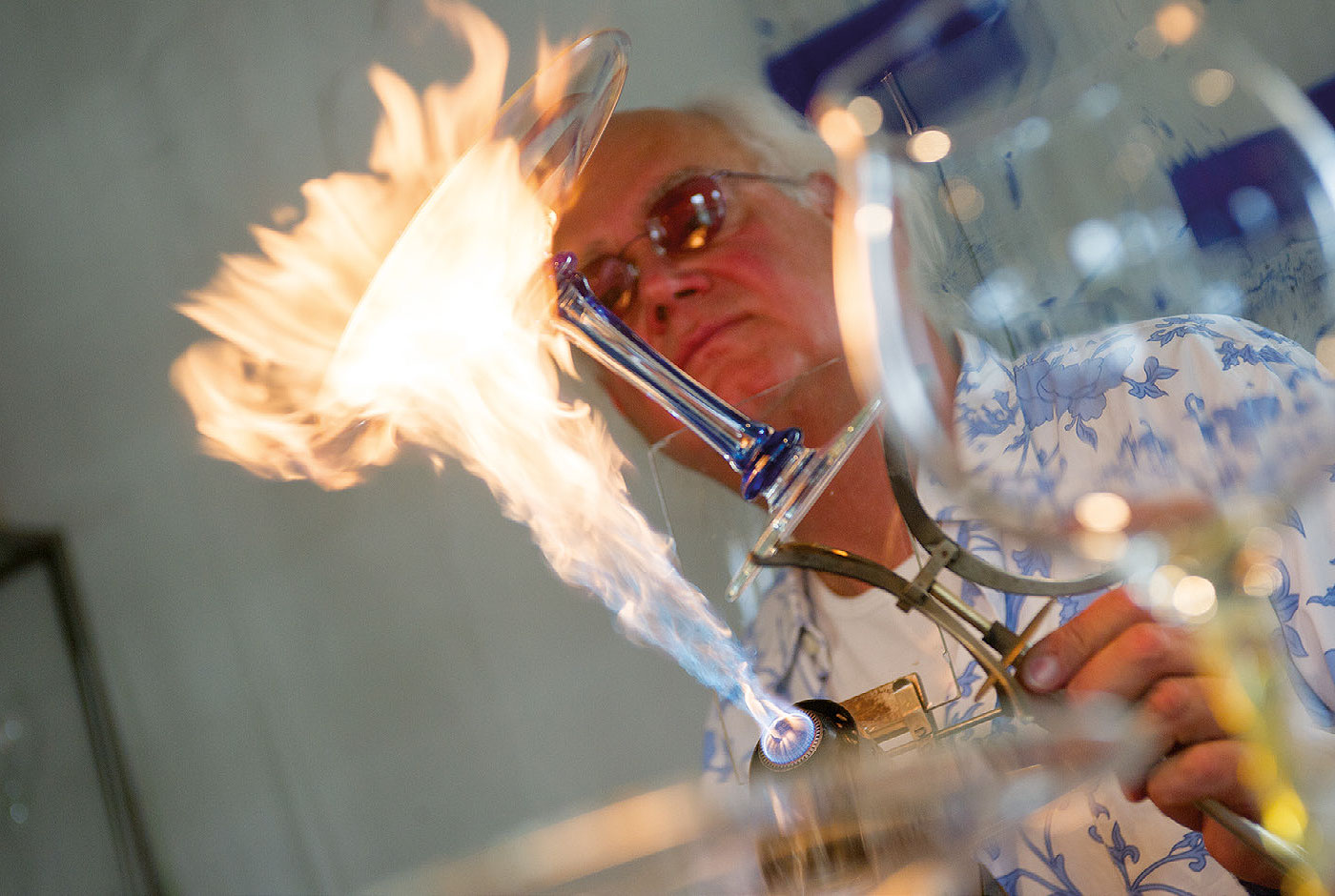 Hans-Jürgen Westphal
The Glass Artist & Painter
The different states of aggregation of glass let me try out and experiment with new things again and again. I like to face the challenges of combining light, shadow and transparency as well as unpredictable reflections in different facets. My working techniques are glass blowing in front of the flame, glass fusing, sculptures made of wood, metal and glass. In the studio workshop I create glasses, bowls, vases, steles, pictures, objects and jewellery made of glass. Gravestones, church windows or partition walls, and many other themes are worked on. There are no words for many of my works, I leave them entirely to the imagination of the viewer. Many of the works are created for a theme, for a competition, for a particular place. Often a phase of watercolour sketches in a sketchbook or pencil sketches precedes them, and sometimes I am given something as a gift while I work. Some, however, then have a description of their being in their luggage.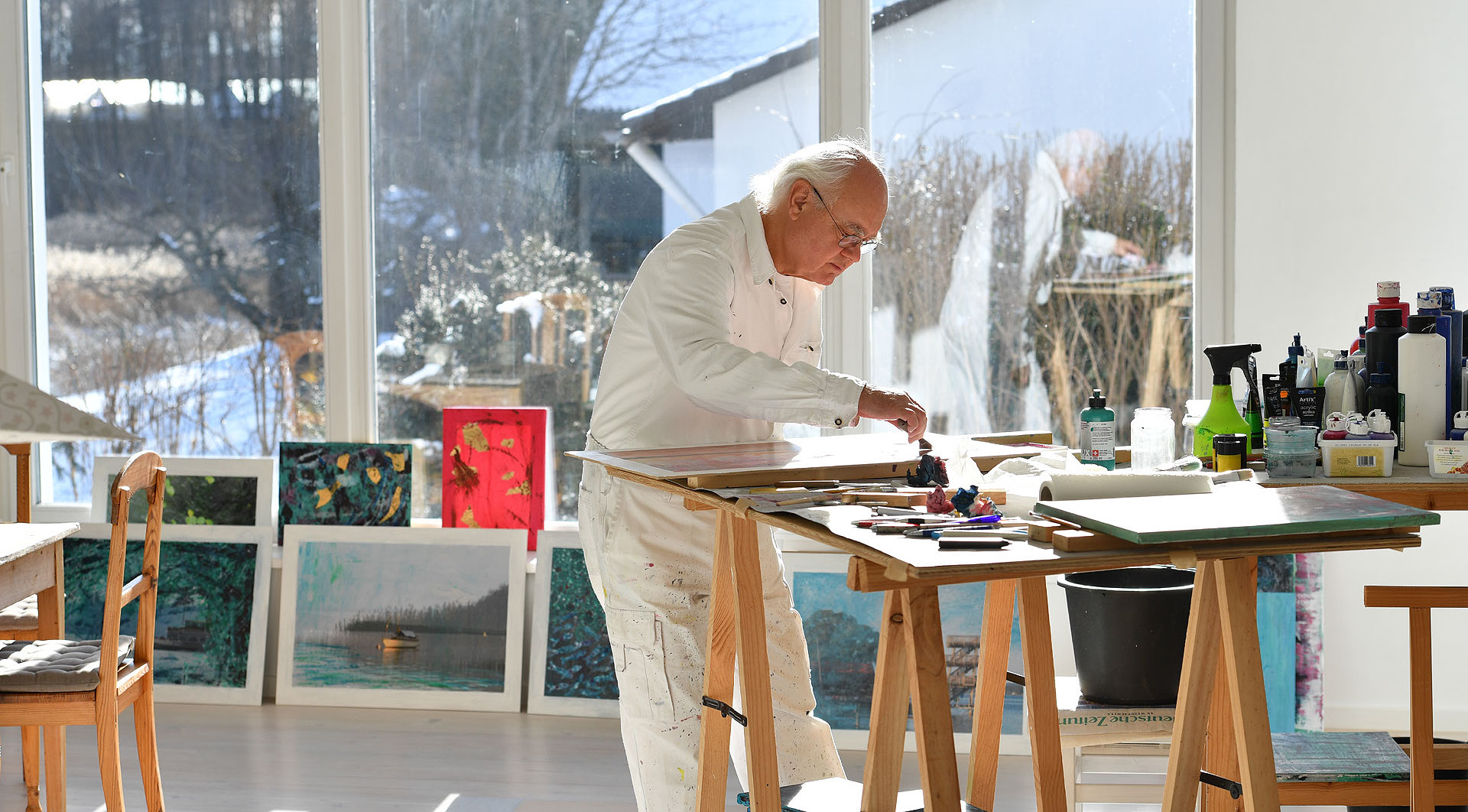 Hans-Jürgen Westphal is a glassblower, glass designer, glass artist. And he is also a painter. He lives and works in Schondorf on Lake Ammersee and in Tinnum on Sylt. The spectrum of his glass art is broad: In his studio workshop in Schondorf you can find glasses, bowls, vases, pictures, heads, steles, objects, … And jewellery made of glass – necklaces, pendants, rings, ear studs – the passion of his wife Gudrun, who sadly passed away much too early in 2019.
The artist also designs a sundial, a church window, a gravestone, the decoration of a house entrance, … His works can be found in many public and private collections. He likes to combine glass with other materials – preferably with wood, bronze, steel and silver; he is constantly experimenting with the possibilities of his material glass. Hans-Jürgen Westphal is the one who plays with glass.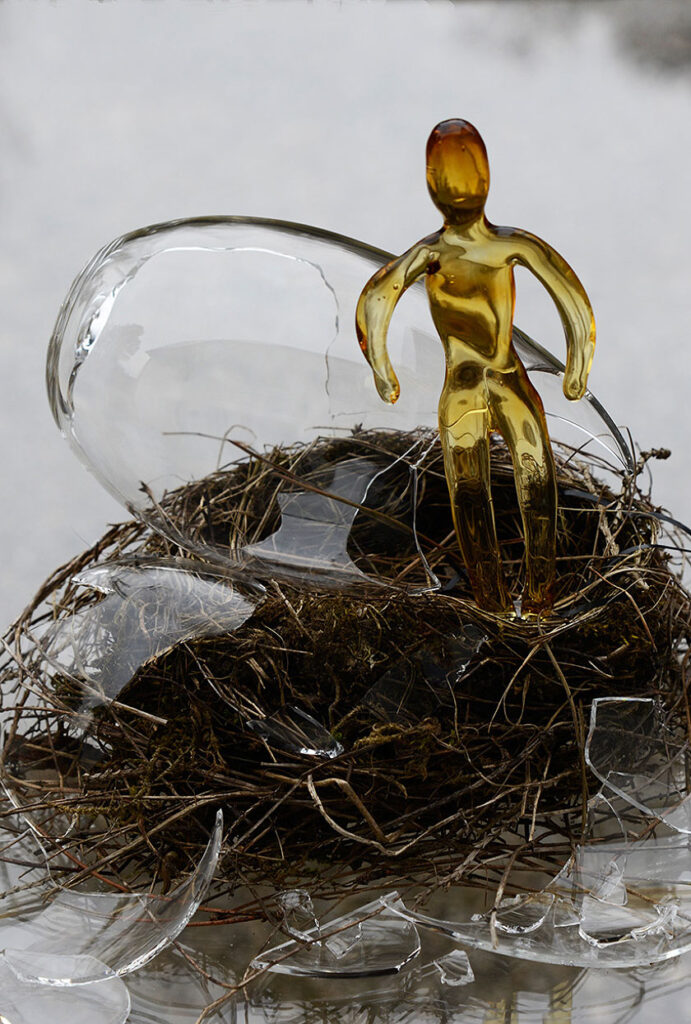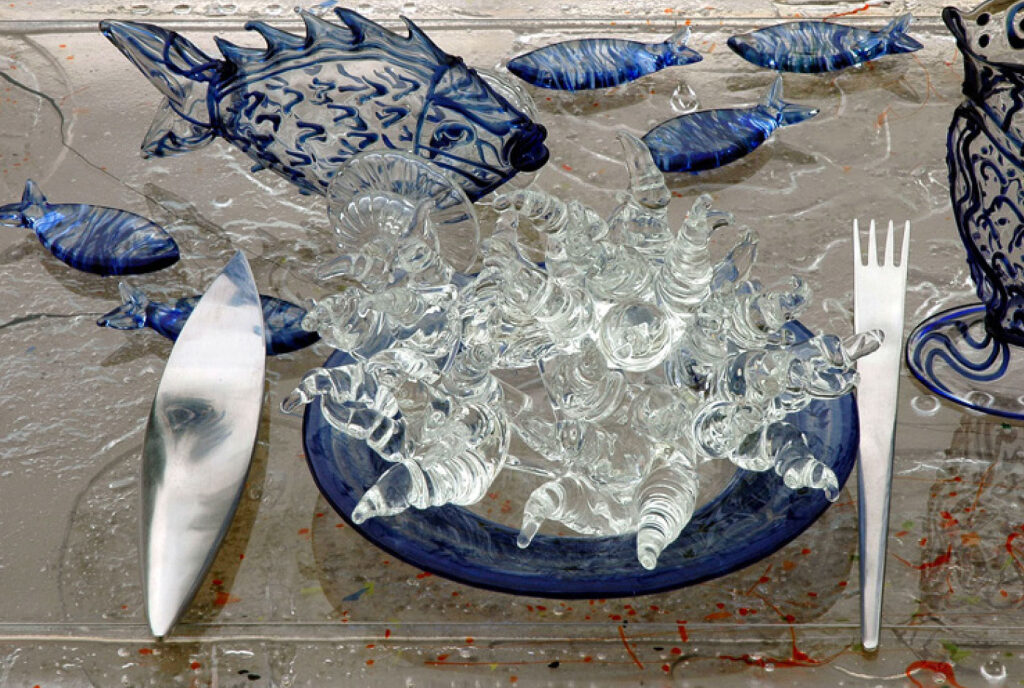 "My objects cannot be described in a few words, there is too much emotion and craftsmanship in them. But if you're really interested, I'm happy to engage in a longer conversation over a cup of tea. For those who want to buy one of my objects, it can be as many as three or four cups. It may be that by then everything has been said and understood and that I can part with my work with a good feeling!"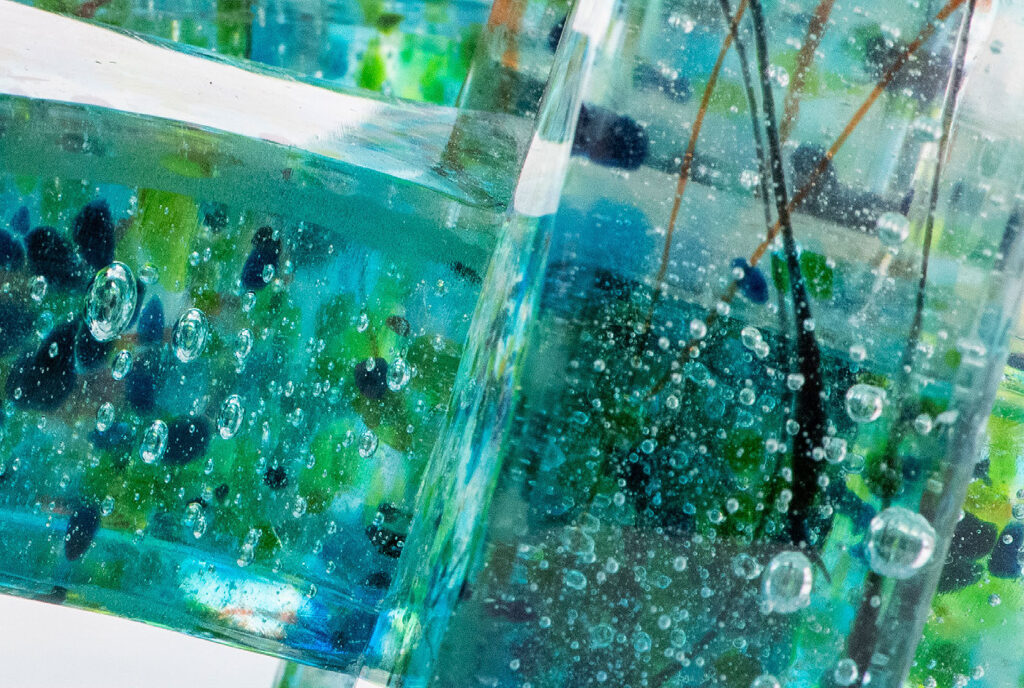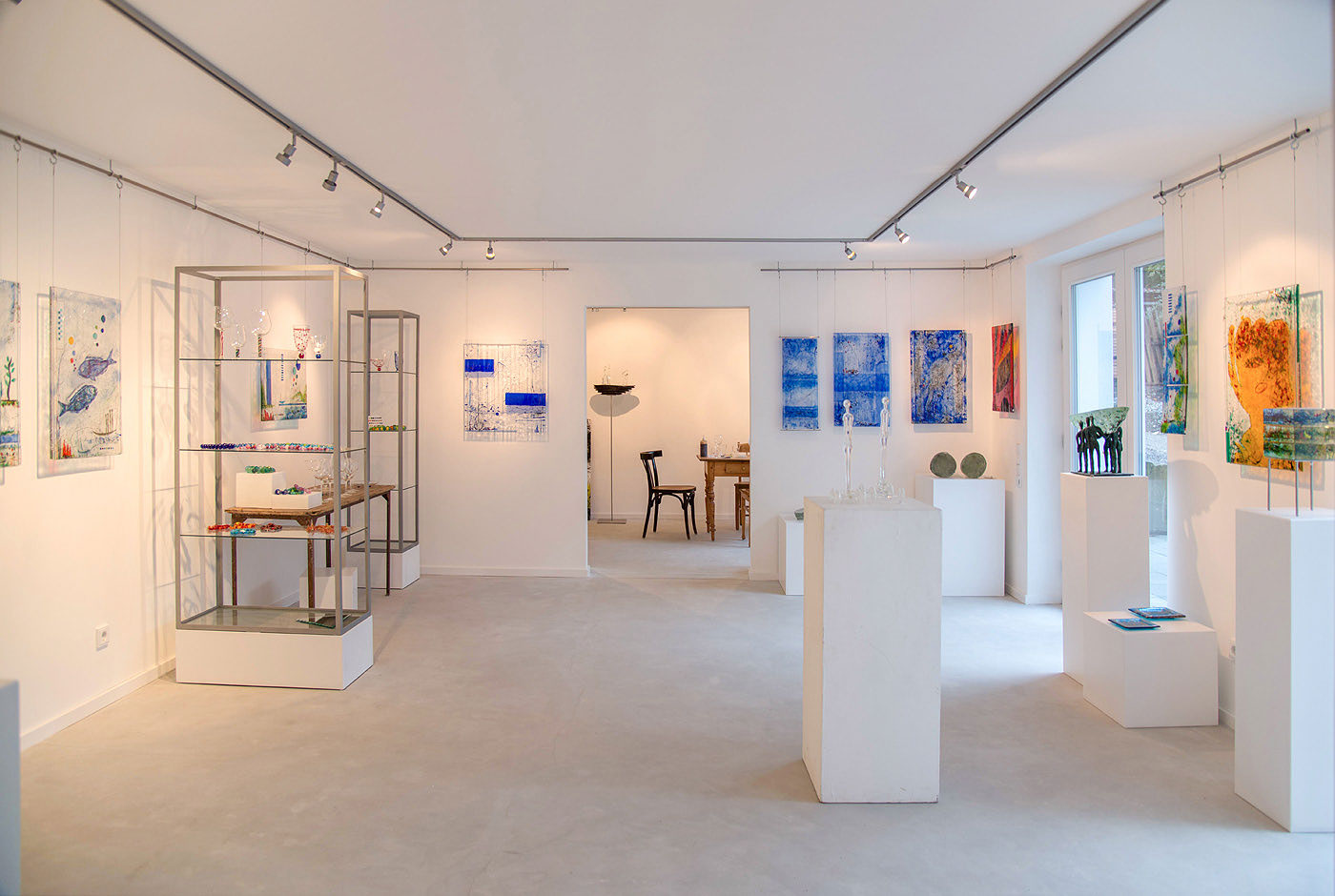 EXHIBITIONS
2019
"From Sand and Ashes" Friends of Sylt Art, Westerland
2009
"Ceramics meets glass" , Object – Sculpture – Vessel Otterndorf
2006/2007
"Fire games" Glasses, masks Pictures Glass Museum Immenhausen
2001/2002
"Glass objects" LOEWE. Gallery, Hamburg
2000
"Glasses, masks, picture plates" Husum Castle, Husum
1980
"Glass, artistically designed" District Museum, Zons
EXHIBITION PARTICIPATIONS
Since 1976 works in various galleries: Wuppertal, Rheda Wiedenbrück, Essen, Göttingen, Berlin, Munich, Hamburg, Osnabrück, Hamm, Stuttgart, Freiburg, Schleswig, Schwerin, Koblenz, Hanover, Husum, Immenhausen, Goedereede, Bad Münder, Salzau, Seinájoi, Kiel, Roermond, Lübeck, Gevelsberg, Worpswede.
2022
"Glass 2022" 8th Immenhausen Glass Award Immenhausen Glass Museum
2020
"Small but beautiful" New jewellery made of glass Immenhausen Glass Museum
2019
Just Glass – Handwerksform Hanover
Five in the Museum – Exhibition at the Sylt Museum Keitum
Table on the cliff – 5000 years of Sylt history, art project Sölring Museums Keitum
2018
Rendezvous – Museum Keitum
2017
District Culture Days – Schondorf Culture Festival
summer in the city – Handwerksform Hannover
Classical Music Festival AMMERSEErenade 2017 – Gut Achselschwang
The small format – Blau Haus, Diessen
2016
LICHTgestalten – Artists' Guild- Landsberg-Lech-Ammersee
Columned Hall Landsberg
sculpture network – Exhibition Orangerie Praterinsel, ARTMUC Munich
2014
Art exhibition WestKunst 1 – Kultur21 Festival, Husum
2013
"Elements – Gravity – Balance – 40 Sculptural Positions". Art Foundry and Gallery Flierl, Berlin
"fish & ships" City Gallery Westerland, joint exhibition of the Sylt Friends of Art"
2012
"Small Sizes III" Art Foundry and Gallery Flierl, Berlin
2011
"Naturally Art" Annual Exhibition BK SH, Norderstedt
"All good things come in threes" Gallery Village, Worpswede "Sculpture Garden" Sylt Museum of Local History, Keitum
"Nachgezeiten" 7th Keitum Sculpture Days, Keitum on the island of Sylt
2010
"Scent and shell" Perfume flacons, Glass Museum Immenhausen
"Sylt- Worpswede" Gallery Village, Worpswede
"Art on the beach" Sylt Rantum
2009
"Jewellery exhibition" Rosenthal Studio-Haus, Hamburg
"MythoSylt – Now" Kaamp Hüs, Kampen
"Ceramics meets Glass" Object – Sculpture – Vessel, Otterndorfv "Sylt meets Worpswede" Gallery Village, Worpswede
"SeaSigns" Keitum Sculpture Days
2008
"in front of the lamp" old technique – new art, Glasmuseum Immenhausen
"Pleasures of the table" Handwerksform Hanover
"MythoSylt – Now" Gallery Villa Hühn, Gevelsberg
"Arts and Crafts SH State Exhibition" Museum Mölln
"Jewellery exhibition" Glass Museum Immenhausen
"59th Christmas Show" Handwerksform Hanover
2007
"Blue, Blue, Blue" Summer exhibition at Handwerksform Hannover
"Jewelled perch and flute fish" , Annual show BK SH in the Burgkloster Lübeck
" Beach Guardians" Gallery Angle JuKa NL Roermond
2006
"Glass 2006" 3rd Immenhausen Glass Award, Glass Museum Immenhausen
"A German-Finnish Dialogue" Partnership Schleswig-Holstein
three East Bothnian regions, Seinájoi, Finland
"A German-Finnish Dialogue" State Library, Kiel, Germany
"Christmas exhibition" Handwerksform Hanover
2005
"Red" summer exhibition at Handwerksform Hannover
"Annual exhibition BK,SH 2005" Landeskulturzentrum Salzau
"Market of Art" at the Bossard Art Centre
2004
"Flooded with Light: Fascination Glass" exhibition at Handwerksform Hannover
"Land Art" Gallery Scheel in Morsum
"Glass has many faces" TGK in Schloss Holtev "Ideas made of glass" Competition, Glass Sculpture Trail in Bad Münder
2003
"Glass 2003" Glass Art in Germany, Glass Museum Immenhausen
2002
"Wooden Objects and Glass" Gallery Heinkel, Freiburg
"Trees- Signs of life" 3rd Keitum Sculpture Days, Keitum on Sylt
"Chalices" Wiligrad Castle, State of Mecklenburg-Western Pomerania
"Art Day" in Goedereede, Holland
2001
"Glasses and Masks" Gallery Heinkel, Freiburg
"Art Meeting ART Bad Sobernheim" Bad Sobernheim, Germany
2000
"Figure – Sculpture", Raiffeisen Bank, Keitum on the island of Sylt
"Glass 2000 – Glass Art in Germany at the Turn of the Millennium" Glasmuseum Immenhausen
"Growth and Changes", 2nd Keitum Sculpture Days, Keitum on Sylt
"Artisans and Artists of the Island of Sylt" in the Leipzig Art Department Store
1999
"Annual exhibition of the BK Schleswig-Holstein" castle in front of Husum
"Encountering trees" 1st Keitum Sculpture Days, Keitum on the island of Sylt
1998
"Arts and Crafts" Museum Holdensted Castle
1997
"Borderless", Art Gallery, Wuppertal-Barmen
1996
"Exhibition of the ADK Schleswig-Holstein" Cissmar Monastery
1994
"Trienale of North German Arts and Crafts" Gottorf Castle, Schleswig
"Triennial of North German Arts and Crafts" Schwerin Castle
"Borderlands of Function" Chamber of Crafts Koblenz "Garden and Tool" Crafts Forum, Hanover