TAGEWERK® FOUR with the title FIREWORKS is a tribute to glassblowing as one of the old, traditional crafts. The calendar describes the work and art of Hans-Jürgen Westphal in his former workshop in the old railway station in Keitum on Sylt. A cross-section of his work is depicted on a total of 16 sheets. Hans Jürgen Westphal is a master of playing with fire; he is a glassblower, glass designer, glass artist. Fire is his most important tool.
TAGEWERK® FOUR 2014 I 2015 . FIREWORKS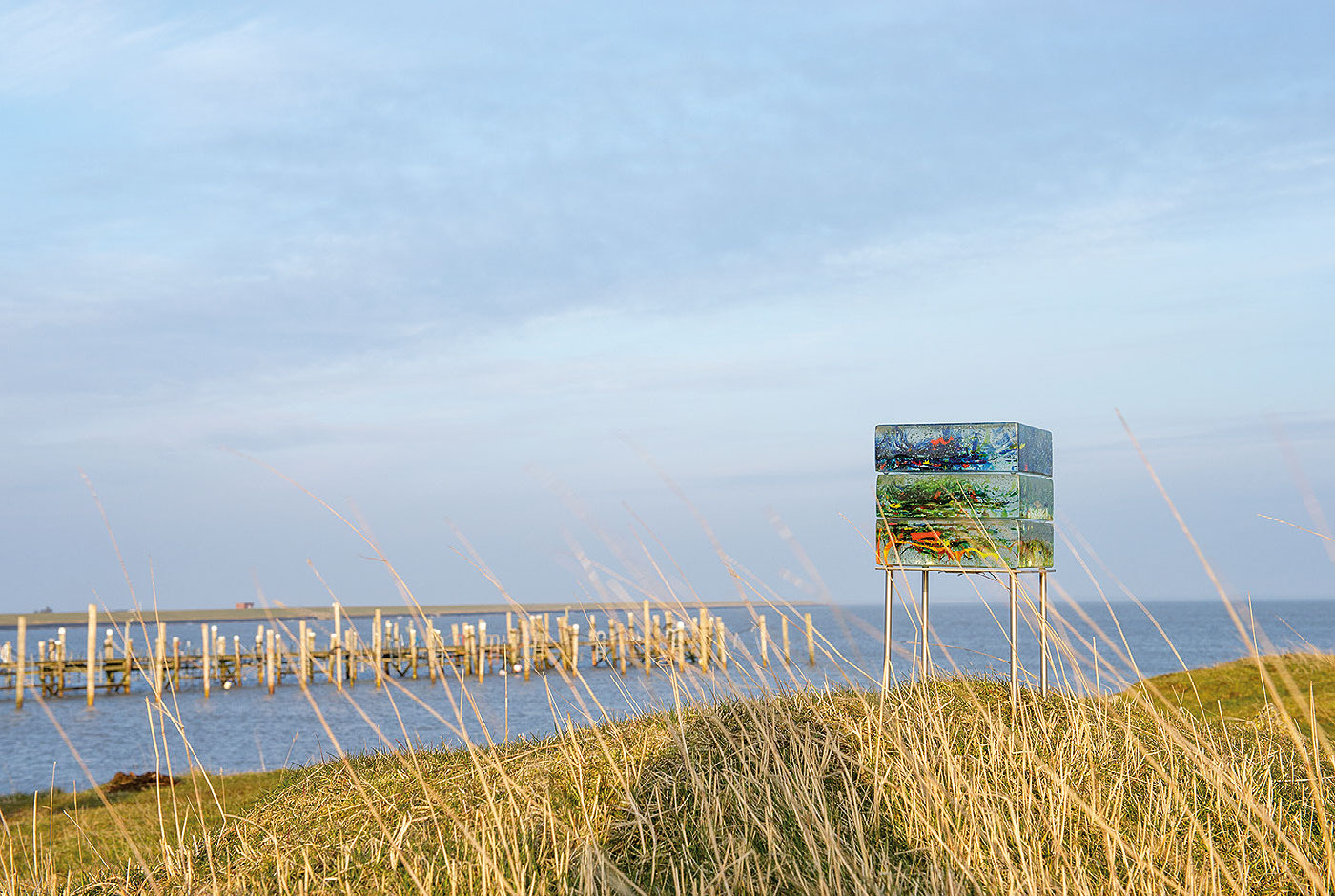 AWARDS

BRONZE
gregor international calendar award 2015

BRONZE
germany-japan exchange exhibition 40th
TEXT EXTRACTS
AUGUST
ON BOARD . Where to?
Naked and glassy, people stand on their ark,
moving closer together,
merging in a feeling of togetherness.

And yet everyone on board has their task,
their place. Two at the front lean forward
What do they see?

Where? . 2014
formed in front of the flame


APRIL
IN THE ALGAE GARDEN . Beachcombers
It is funny to look at the assembly
of colourful "beach guards" in a seaweed garden;
cheerful goblins who missed their currents at the last tide change.
They still hesitate – a blink of an eye and they are invisible.

Beachcombers . 2013
Glass fusion
TEXTAUSZÜGE
AUGUST
AN BORD . Wohin? Nackt und gläsern stehen Menschen auf ihrer Arche, rücken zusammen, verschmelzen im Wir-Gefühl. Und doch hat jeder an Bord seine Aufgabe, seinen Platz. Zwei ganz vorne beugen sich vor. Was sehen sie?
Wohin? . 2014 vor der Flamme geformt
APRIL
IM ALGENGARTEN . Strandwächter Witzig ist sie anzuschauen, die Versammlung buntgeglaster «Strandwächter« in einem Algengarten; fröhliche Kobolde, die beim letzten Gezeitenwechsel ihre Strömung verpasst haben. Noch zögern sie – ein Wimpernschlag, und sie sind unsichtbar.
Strandwächter . 2013 Glasverschmelzung